Africa Morocco Link
The company Africa Morocco Link (AML) operates in the areas between Morocco and Spain, providing high-quality and reliable transportation services for passengers, freight, and private vehicles, combining comfort and luxury with speed and efficiency.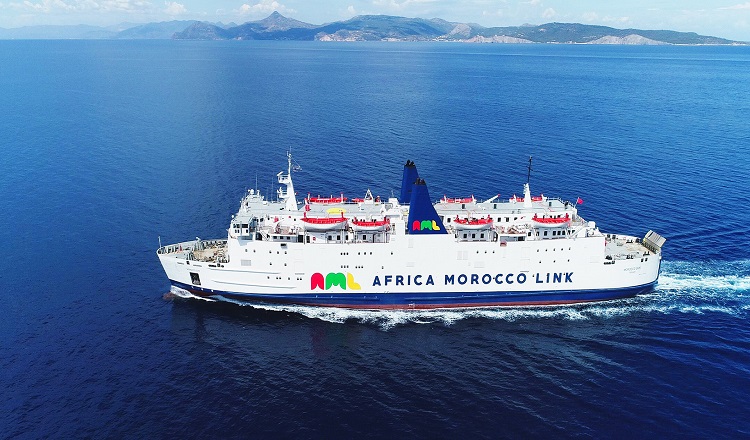 Routes - Destinations
The Africa Morocco Link (AML) operates between Spain and Morocco, offering up to 11 daily routes between the ports of Algeciras and Tanger-Med. The company's fleet consists of two conventional-type ships, the Morocco Sun and the Morocco Star. Both vessels feature modern amenities that cater to travelers, such as cabins and a garage for vehicle transportation.
Ferry Τickets Discounts - Offers
Holders of Interrail & Eurail cards can travel on AML ships with a 30% discount.
With AML, you can travel with the comfort of your camping/caravan, while also taking advantage of the onboard facilities. Enjoy your journey with camping equipment on the ship.
If you are traveling by bus with a group of at least 20 passengers, you can benefit from special group rates and our services on board. Special group menus are also available, which can be booked in advance.
AML provides facilities that ensure a comfortable passage for you and your pet during the trip. Please note that pets can only travel if accompanied by a passenger. There are designated areas on the ships for pet care, upon request at the reception. Owners or caretakers must have valid health documents for their pets during the trip and possess all required certificates according to the regulations of Spain and Morocco. Additionally, EU citizens are required to have a pet passport for EU pets. Furthermore, all entry regulations must be followed. For all cats, dogs, and ferrets, a valid rabies vaccination certificate is mandatory in accordance with the regulations.