ANES Ferries: Ferries to Aegina and Sporades
The ferry company ANES Ferries has been operating in Greek coastal shipping since 1979. In 2006, it expanded its operations to the Piraeus-Aegina line, and since 2013, it has also served the lines to the Sporades islands. Today, ANES Ferries operates with a total of 4 vessels, providing ferry connections between Piraeus and Aegina, as well as the islands of the Sporades.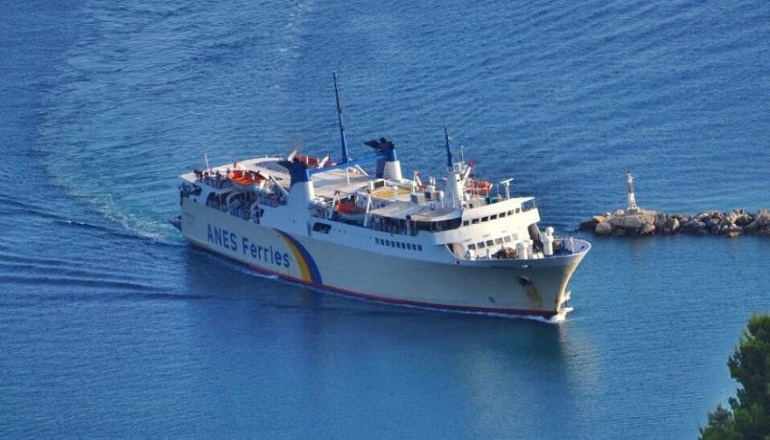 The company
ANES Ferries operates daily routes with departure ports from Piraeus and the port of Aegina. The company aims to further develop its coastal shipping services with an emphasis on safety and reliability.
Routes - Destinations
Ferry routes to Piraeus
Aegina to Piraeus
Agios Konstantinos to Piraeus
Ferry routes to Glyfa, Fthiotida
Agios Konstantinos to Glyfa, Fthiotida
Glossa Skopelos to Glyfa, Fthiotida
Skiathos to Glyfa, Fthiotida
Ferry routes to Skopelos
Agios Konstantinos to Chora Skopelos
Alonissos to Chora Skopelos
Glyfa Fthiotida to Chora Skopelos
Mantoudi Evia to Chora Skopelos
Skiathos to Chora Skopelos
Volos to Chora Skopelos
Alonissos to Skopelos
Mantoudi Evia to Agnontas Skopelos
Ferry routes to Agios Konstantinos
Chora Skopelos to Agios Konstantinos
Glyfa Fthiotida to Agios Konstantinos
Piraeus to Agios Konstantinos
Skiathos to Agios Konstantinos
Chora Skopelos to Agios Konstantinos
Ferry routes to Glossa Skopelos
Agios Konstantinos to Glossa Skopelos
Glyfa Fthiotida to Glossa Skopelos
Mantoudi Evia to Glossa Skopelos
Skiathos to Glossa Skopelos
Volos to Glossa Skopelos
Ferry routes to Skiathos
Agios Konstantinos to Skiathos
Alonissos to Skiathos
Glossa Skopelos to Skiathos
Glyfa Fthiotida to Skiathos
Mantoudi Evia to Skiathos
Chora Skopelos to Skiathos
Agnontas Skopelos to Skiathos
Volos to Skiathos
Ferry routes to Evia
Alonissos to Mantoudi Evia
Glossa Skopelos to Mantoudi Evia
Skiathos to Mantoudi Evia
Chora Skopelos to Mantoudi Evia
Agnontas Skopelos to Mantoudi Evia
Volos to Mantoudi Evia
Ferry routes to Volos
Alonissos to Volos
Glossa Skopelos to Volos
Mantoudi Evia to Volos
Skiathos to Volos
Agnontas Skopelos to Volos
Ferry routes to Alonissos
Mantoudi Evia to Alonissos
Skiathos to Alonissos
Chora Skopelos to Alonissos
Agnontas Skopelos to Alonissos
Volos to Alonissos
Passengers traveling with pets must always have the updated health booklet of their pet, a pet carrier weighing up to 10 kilograms, or a muzzle for pets weighing over 10 kilograms. They are responsible for the care, safety, and hygiene of their pets. Pets are not allowed in the common indoor areas of ANES Ferries' ships. Dogs are allowed to circulate only if accompanied by their owner and wearing a leash. Book your ferry tickets quickly and affordably at booktickets! Here you will find all the available information about prices and schedules of the ships.