Dodekanisos Seaways: Ferry routes to Dodecanese & N. Aegean
Dodekanisos Seaways is a Greek coastal shipping company that has been serving the Dodecanese and the islands of the Northeastern Aegean since 1999. Based in Rhodes, the company operates in 18 destinations in the Dodecanese and the Northern Aegean.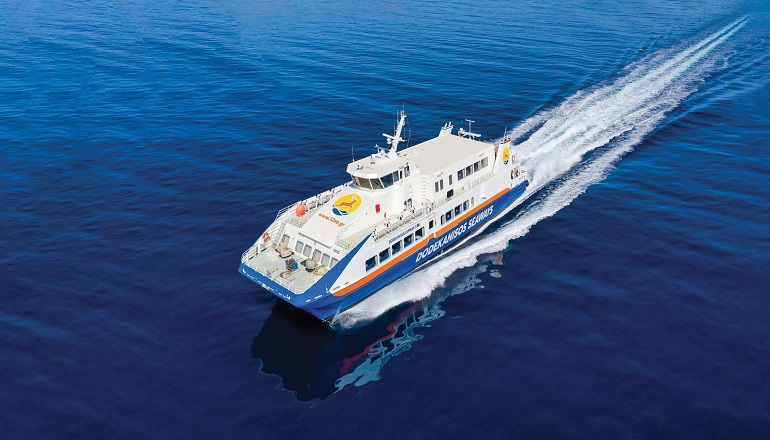 The company
In 1999, George Spanos founded Dodekanisos Seaways in Rhodes. The company commenced its routes using a high-speed catamaran, the Dodekanisos Express, which was built for them at the Båtservice Mandal AS shipyard in Norway and delivered in 2000. In 2005, the second high-speed catamaran, Dodekanisos Pride, was constructed, and in 2011, the ship E/G - O/G Panagia Skiadeni was acquired. In 2015, it was awarded the title of "Best Coastal Shipping Company" by Lloyd's List, while in 2016, it received praise from the Hellenic Red Cross, the Municipality of Rhodes, and the Central Port Authority of Rhodes.
Routes and destinations
Dodekanisos Seaways operates in 18 destinations in the Dodecanese and the Northern Aegean. The destinations served by the company include Rhodes, Symi, Panormitis Symi, Kos, Kalymnos, Leros, Lipsi, Patmos, Agathonisi, Kastellorizo, Halki, Tilos, Nisyros, Arki, Samos, Ikaria, Fournoi, and Astypalaia.
Ferry Τickets Discounts - Offers
Infants and children up to 4 years old travel for free, with the issuance of a ticket with zero fare. 50% discount for children from 4 to 10 years old.
50% discount for students.
50% discount for large families.
25% discount for retired naval personnel (NAT).
50% discount for disabled individuals with a disability percentage above 80% and their assistants/companions.