Golden Star Ferries: Book Fast & Affordable Tickets
The company Golden Star Ferries is based in the port of Rafina, which is the second busiest port in Attica and is located in close proximity to Athens' airport, Eleftherios Venizelos. Book your ferry tickets quickly and affordably at booktickets! Here you will find all the available information about prices and schedules of the ships.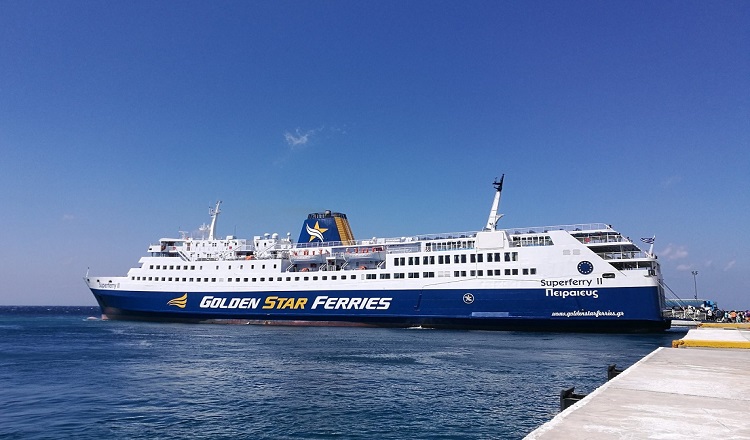 The company
Golden Star Ferries was established in 2011 and started its routes with one ship. Over time, the company managed to establish itself among the largest ferry companies, and currently, it operates with four modern vessels. The company connects Rafina with the islands of the Cyclades, meeting the demands of these islands. Especially during the summer season, when the needs increase, the company offers additional routes to meet the demand.
Routes - Destinations
Golden Star Ferries operates ship routes from Rafina to the Cyclades islands throughout the year. Additionally, the company provides frequent routes between the Cyclades islands.
The destinations served by Golden Star Ferries are as follows:
Syros
Alonissos
Skopelos
Skiathos
Heraklion
Santorini
Ios
Naxos
Paros
Mykonos
Tinos
Andros
Folegandros
The ship routes offered by Golden Star Ferries are as follows:
Ferry routes Rafina - Andros - Tinos - Mykonos
Ferry routes Heraklion - Thira - Naxos - Mykonos
Ferry routes Piraeus - Milos - Folegandros - Thira - Ios - Paros - Mykonos
Ferry routes Syros - Tinos - Mykonos - Thira
Ferry Τickets Discounts - Offers
50% discount for all students of Greek universities.
50% discount for any destination for large families.
30% discount on return tickets for same-day trips.
50% discount for children aged 5-10.
50% discount for individuals with disabilities with a disability rate of 80% or higher.
25% discount for NAT retirees.
20% discount for families with three children.
20% discount for police officers, firefighters, and military personnel.
The high-speed catamaran, Superexpress, is one of the largest luxury vessels in Greece. It connects the port of Rafina with the island destinations of Andros, Tinos, Mykonos, Naxos, Ios, Santorini, Milos, Folegandros, and Paros. This ship can reach speeds of up to 35 knots. It has a capacity for 1070 passengers and 200 vehicles.
The conventional ferry, Superferry, has been fully renovated and has been available since 2016. It connects Rafina with Andros, Tinos, Mykonos, Paros, Ios, and Santorini. It can reach speeds of up to 21 knots and can accommodate 1,760 passengers and 280 vehicles.