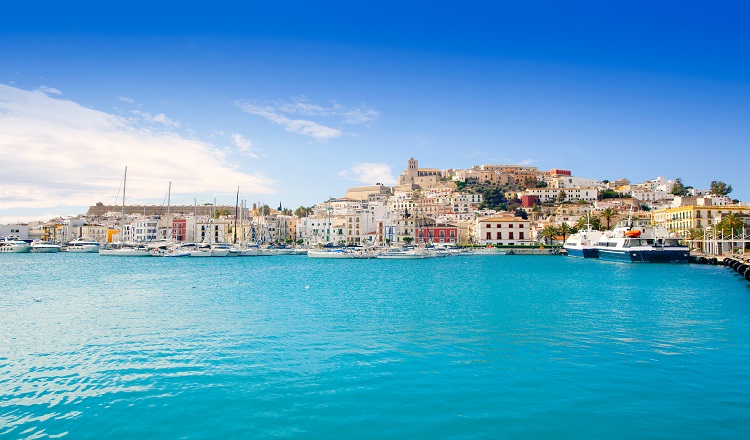 Ibiza
Ibiza is one of the Balearic Islands in the Mediterranean Sea, which constitute an autonomous community of Spain. The capital of the island is the city of Ibiza. Ibiza is known for its vibrant nightlife and party scene, making it one of the most popular destinations for young travelers in Europe.
BOOK NOW
History of Ibiza
The history of Ibiza stretches back to ancient times and has a rich cultural and historical past. Ibiza was inhabited by the Phoenicians and Carthaginians around the 7th century BCE. In 123 BCE, the Romans conquered Ibiza and incorporated it into the Roman Empire. The Romans introduced agriculture, fishing, and olive cultivation to the island.
After the fall of the Roman Empire, Ibiza came under the influence of the Byzantine Empire. During this period, many churches were built, and existing Roman structures were renovated. In the 16th and 17th centuries, Ibiza fell into the hands of the Turks and the North African Barbary pirates. In 1715, the British occupied the island and held control for many years. In 1808, Ibiza was handed over to the Spanish. From the 20th century, Ibiza began to gain popularity as a tourist destination. Today, Ibiza is known for its vibrant nightlife, beautiful beaches, and its rich history and culture that it offers to its visitors.
Beaches in Ibiza
Ibiza offers an incredible variety of beautiful beaches with crystal-clear waters and stunning landscapes. Among the most popular beaches in Ibiza are the following:
Cala Tarida: This beach is located on the western side of the island and features an exotic landscape with soft white sand and turquoise waters. It is a family-friendly beach with excellent facilities and a variety of services and water sports activities.
Playa d'en Bossa: Situated near the capital of Ibiza, this is one of the most famous beaches on the island. Here you will find a sandy beach, numerous beach bars, restaurants, and renowned nightclubs.
Cala Jondal: This beach is located on the southern side of the island and is known for its luxury and seclusion. It has a relaxed atmosphere and is surrounded by lush foliage and cliffs.
These are just a few examples of the stunning beaches you can find in Ibiza. The island is renowned for its coastline and offers many more beautiful and picturesque beaches for visitors to enjoy.
Sights in Ibiza
Ibiza has many attractions and remarkable places worth visiting. Some of the main attractions in Ibiza include:
Ibiza Dalt Vila: The old town of Ibiza, also known as Ibiza Dalt Vila, is an ancient settlement surrounded by historic walls. Here, you will find narrow streets, stone houses, palaces, churches, and the Ibiza Castle. The area offers breathtaking views of the sea and the rest of the town.
Es Vedrà Beach: This is a mesmerizing rock formation rising from the sea near the southern coast of Ibiza. It is renowned for its beauty and the mysterious archaeological sites located in the area.
Archaeological Site of Sa Caleta: This archaeological site is located on the southern coast of Ibiza and is a UNESCO World Heritage site.
Formentera Island: This small island is situated near Ibiza and is a popular destination for day trips. It boasts beautiful beaches with turquoise waters and is known for its tranquility and natural beauty.
These are just a few of the attractions you can visit in Ibiza. There are also many more places worth exploring, such as museums, natural landscapes, and picturesque villages.
Activities in Ibiza
Ibiza offers a plethora of activities to enjoy during your stay. Depending on your interests, you can choose from the following activities:
Beaches and water sports: Enjoy the turquoise beaches of Ibiza and engage in water sports such as water skiing, diving, snorkeling, jet skiing, and kayaking.
Nightlife: Ibiza is globally renowned for its dynamic and vibrant nightlife. Visit famous nightclubs and bars like Pacha, Amnesia, Ushuaia, and many others.
Historical attractions: Explore the old town of Ibiza (Ibiza Dalt Vila) and archaeological sites such as the Archaeological Site of Sa Caleta and the Ibiza Castle.
Cycling and hiking: Discover the beautiful nature of Ibiza through cycling or hiking. There are plenty of trails and routes leading to stunning landscapes and secluded beaches.
Shopping: Visit the markets and shops in Ibiza to purchase local products such as clothing, jewelry, local food, and handmade arts and crafts.
Theme parks: There are theme parks in Ibiza, such as Aguamar Water Park, where you can enjoy water slides and other aquatic games.
These are just a few of the activities you can enjoy in Ibiza. Regardless of your preferences, you will find something to excite you on this beautiful island.
How to travel to Ibiza?
To travel to Ibiza, there are various options available depending on your location and preferences. The main methods of transportation to Ibiza include:
Ferry: Another option is to travel by ferry from mainland Spain or other Balearic Islands. There are many companies that offer regular ferry connections to Ibiza, such as Balearia, Trasmapi, and others.
Plane: The most common way to reach Ibiza is by plane. Ibiza's international airport (Aeropuerto de Ibiza) receives flights from many cities in Europe.
Car: If you are near Spain, you can travel by car and use the ferry to reach Ibiza. There are ferries that operate from major ports in mainland Spain, such as Barcelona and Valencia.
Bus: You can also travel to Ibiza by bus from various cities in Spain. There are bus routes connecting Ibiza with Barcelona, Valencia, and other cities.
Regardless of the method of travel you choose, it's important to check the available options on booktickets  and make reservations in advance, especially during the peak tourist season.