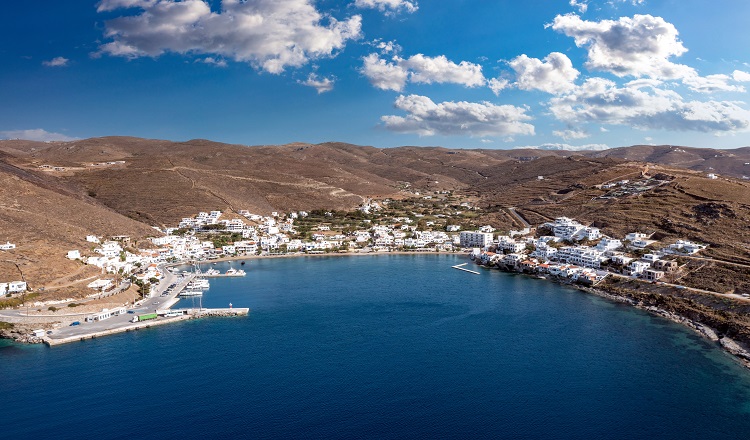 Kythnos
Kythnos is a charming Greek island located in the western part of the Cyclades, known for its peaceful beaches, picturesque villages, and therapeutic hot springs. The island is famous for its natural beauty, with scenic beaches such as Kolona and Apokrousi, and the quaint villages of Dryopida and Chora, which are built in the typical Cycladic style. Visitors to Kythnos can also enjoy the island's thermal springs.
BOOK NOW
History of Kythnos
Kythnos is a small Greek island located in the western Cyclades. The island has a rich and diverse history dating back thousands of years. In ancient times, Kythnos was known as "Thermia," due to its natural hot springs, which were believed to have healing properties. The island was also a major center of trade and commerce, with its strategic location making it an important stopover for ships traveling between Greece and the Middle East. Over the centuries, Kythnos was conquered by various groups, including the Romans, Byzantines, Venetians, and Ottomans. During the Greek War of Independence in the early 19th century, the island played an important role in the struggle for freedom, with many of its inhabitants joining the rebellion against Ottoman rule. Today, Kythnos is a popular tourist destination, known for its beautiful beaches, traditional villages, and rich cultural heritage.
Beaches in Kythnos
Kythnos is a beautiful Greek island with many picturesque beaches to explore. Here are some of the most famous beaches in Kythnos:
Kolona: A stunning beach with crystal clear waters located on a thin strip of land between two hills, offering views of both the Aegean Sea and the bay of Kolona.
Apokrousi: A peaceful beach with crystal clear waters and golden sand, located in a secluded bay on the north side of the island.
Loutra: A beautiful beach located near the village of Loutra, known for its thermal springs and therapeutic properties.
Episkopi: A long sandy beach with shallow waters, ideal for families with children, located on the south side of the island.
Martinakia: A small secluded beach with crystal clear waters and rocky surroundings, perfect for those seeking peace and tranquility.
Kanala: A beautiful beach with golden sand and crystal clear waters, located on the east side of the island, near the picturesque village of Kanala.
Agios Sostis: A beautiful beach with crystal clear waters and pebble stones, located on the north side of the island, near the village of Merichas.
Food in Kythnos
Kythnos is a small Greek island with a rich culinary tradition, influenced by the local agriculture and fishing. Here are some examples of traditional Kythnian dishes:
Froutalia
Strapatsada
Giaprakia
Amygdalota
Kakavia
Kolokythokeftedes
Sfougato A savory pie made with local cheese, eggs, and greens such as spinach or chard.
These are just a few examples of the many delicious traditional dishes you can find on Kythnos. The island's cuisine is known for its simple and fresh ingredients, such as local vegetables, herbs, and fresh seafood. Don't forget to try some of the local sweets, such as pasteli (sesame seed bars), or the island's famous honey, which is produced from local thyme flowers and has a unique flavor.
Sights in Kythnos
Kythnos is a picturesque Greek island with many interesting sights to explore. Here are some of the top attractions on the island:
Chora: The main town of Kythnos, built in the typical Cycladic style with narrow streets, white houses, and blue doors and windows.
Loutra: A village famous for its thermal springs, believed to have therapeutic properties, and its beautiful neoclassical buildings.
Panagia Kanala: A beautiful whitewashed church located in the village of Kanala, with stunning views of the Aegean Sea.
Ancient Kythnos: The remains of an ancient city on the island, dating back to the 8th century BC, including ruins of a temple and a fortification wall.
Folklore Museum: A small museum located in the village of Dryopida, exhibiting traditional costumes, tools, and household items from the island's past.
Castle of Oria: A medieval castle located on the top of a hill overlooking the island, built in the 13th century by the Venetians.
Activities in Kythnos
Kythnos is a beautiful and tranquil island that offers visitors a wide range of activities to enjoy. Here are a few things you can do while on Kythnos:
Relax on the Beaches: Kythnos has some of the most beautiful beaches in the Cyclades, with crystal-clear waters and stunning scenery. Some of the most popular beaches include Kolona Beach, Apokrousi Beach, and Agios Sostis Beach.
Visit the Hot Springs: Kythnos is famous for its natural hot springs, which have been used for therapeutic purposes since ancient times. You can visit the thermal springs at Loutra, where you can soak in the warm waters and enjoy the healing properties.
Explore the Traditional Villages: Kythnos has many picturesque villages, each with its own unique character and charm. Some of the most popular villages to visit include Dryopida, Chora, and Messaria.
Hiking and Nature Walks: Kythnos has many scenic hiking trails and nature walks, which offer visitors the opportunity to explore the island's rugged landscape and stunning scenery.
Water Sports: Kythnos is a great destination for water sports enthusiasts, with opportunities for snorkeling, diving, windsurfing, and more.
Visit the Archaeological Sites: Kythnos has a rich history, and there are several ancient sites to visit, including the prehistoric settlement of Vryokastro and the ancient acropolis of Kythnos.
Accommodation in Kythnos
Kythnos offers a wide range of accommodation options to suit different tastes and budgets, so you're sure to find something that fits your needs.
How to travel to / from Kythnos?
You can book your ferry tickets to the island of Kythnos using the ferry ticket reservation service of booktickets. There are various options to reach the island from different ports.
If you prefer to travel from Piraeus to Kythnos, you can board the "Dionisios Solomos" ferry operated by Zante Ferries and reach the island in about three hours. Regular weekly itineraries ensure the connection between the port of Piraeus and Kythnos.
For a faster route, you can depart from Lavrio and board the "Artemis" ferry by Hellenic Seaways. This route takes approximately two and a half hours to reach your destination in Kythnos.
Another alternative is to depart again from Lavrio, but this time board the "Ionis" ferry operated by Triton Ferries. This route takes about one hour and forty-five minutes to arrive in Kythnos.
Additionally, there are ferry connections between Kythnos and other islands in the Cyclades, such as Sifnos, Serifos, Milos, Kimolos and Folegandros. During peak season, there are daily ferries from Athens to Kythnos, as well as from other Cycladic islands to Kythnos.
For the ferry trips from Piraeus to Kythnos, the ticket cost is 24 euros, while from Lavrio, it is 16 euros. From Serifos, the ticket cost is 8 euros.
If you plan to travel to Kythnos, you can choose the appropriate destination and ferry based on your preferences and schedule.