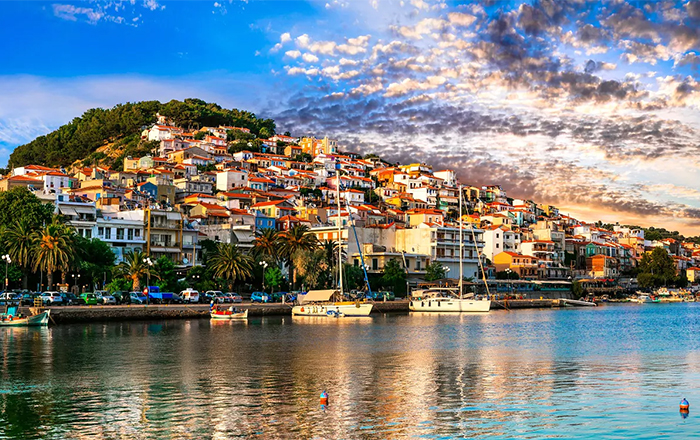 Lesvos
Lesvos is the third-largest island in the Aegean Sea, after Evia and Crete. It impresses visitors with its dense olive groves and beautiful beaches. The island is mountainous, with rich vegetation in the east and its center, while the west is barren and rocky. On the western side lies the fossilized forest, which was covered by lava from a volcano millions of years ago.
BOOK NOW
History of Lesbos
The Aeolians settled on the island in the 10th century BC and significantly contributed to the development of poetry and literature with figures like Sappho and Alcaeus. Lesbos underwent changes over the centuries, from Persians, Macedonians, Athenians, Spartans, Pontians, until it became part of the Roman Empire around 80 BC. Subsequently, it faced attacks from Turks, Venetians, and Saracens during the decline of the Byzantine Empire. In 1355, Lesbos was ceded to the Gatelouzi family, and the castle of Mytilene was built during that time and still stands today.
In 1462, after a siege, the Ottoman Turks occupied the island, and despite efforts during the Greek War of Independence in 1821, it remained under their rule until November 8, 1912. On November 8, 1912, Admiral Kountouriotis, with the Greek fleet, liberated the city of Mytilene, and a month later, after a bloody battle, the entire island of Lesbos was liberated. During the Asia Minor Catastrophe of 1922, around 24,000 refugees settled permanently on the island. During World War II, the island was occupied by German forces in 1941 and liberated in 1944.
Beaches in Lesvos
Tsamakia Beach: An organized beach beneath the castle, located a short distance from the city center. It's the ideal choice for those without transportation. To the south, not far from the airport, is the small bay of Agios Ermogenis, a favorite spot for young people. In this area, the chapel of Agios Ermogenis, the patron saint of athletes, stands out.
Kanoni Beach: Open your umbrellas and relax on the sunbeds of Kanoni Beach, located in Thermi, north of Mytilene. Here, you'll find beach bars, taverns, and the opportunity for water sports.
Eressos Beach: A beach with crystal-clear waters, fine gray sand, and a length of 2.5 kilometers. It's perfect for group outings and offers excellent facilities, making it one of the most popular tourist resorts on the island, with a unique way of life. It's also worth noting that as the homeland of Sappho, it's a popular destination for LGBTQ+ travelers from around the world.
Chrousos Beach: Just 4 kilometers from the village of Mesotopos, you'll find this beautiful sandy beach with a small plain that extends to the Mallionta River. Although it's remote, there is a kantina (snack bar) that offers limited food options.
Tsonia Beach: Near the village of Kleio, this beach is a hidden gem. It has crystal-clear waters, red sand, and if you're lucky, you may spot dolphins swimming in the Aegean waters. It's recommended to bring a cooler with essentials to spend several hours here.
Petrified Forest Beach, Anaxos: A sandy beach with umbrellas and sunbeds, perfect for families and water sports enthusiasts. Three kilometers west of the village, you'll also find Anaxos Beach, an organized sandy beach with taverns and amazing views of Molivos.
Vatera Beach: A family-friendly beach with a length of 8 kilometers and good facilities for games and water sports. In the area, you'll find taverns, beach bars, and hotels.
Plomari Beach: This beach, with its crystal-clear waters, fine gray sand, and excellent facilities, is the ideal choice for those who want to enjoy their swim. This beach is located in Thermi, north of Mytilene.
Sights in Lesvos
Agiasos: A beautiful village at the foot of Mount Olympus with traditional architecture and rich nature characterized by chestnut trees, pine trees, and plane trees. It's also known for the Church of Panagia, a place of pilgrimage. Every year, a traditional Carnival is held here with satyrs speaking in the local dialect.
Agia Paraskevi: A picturesque village with restaurants and a unique Bull Festival in honor of Agios Charalambos in May, which includes horse racing. Also, near the village, you'll find the Kremasti Bridge.
Vatera: A thriving coastal area with the largest sandy beach in Lesbos. During the summer months, it fills with tourists and offers rental rooms, hotels, and a large camping site.
Gavathas: A picturesque fishing village with stunning sunsets that you can enjoy from the village's chapel. Also, near Petra, you'll find Anaxos Beach with a beautiful swimming area and a rich offering of fish.
Eressos: A popular tourist resort known for its beautiful beaches. It's also the homeland of the Folk Muse Sappho.
Thermi: A characteristic village with a picturesque harbor, thermal springs, and good accommodation options. Near Thermi is the famous Monastery of Saint Raphael.
Kalloni: A village located in the center of the island, known for its tasty sardines and rich tourist infrastructure.
Mantamados: A village in the northern part of the island, known for the Church of Taxiarchis and the art of pottery.
How to travel to / from Lesvos?
Lesvos is located in the North Aegean and daily ferry routes operate from Piraeus and other islands in the Aegean. Some popular routes are as follows:
Ferry Routes Piraeus - Lesvos: The Piraeus - Lesvos (Mytilene) route is operated by the ferry company Blue Star Ferries with intermediate stops at the islands of Syros, Mykonos, Agios Kirykos (Ikaria), Fournoi, Samos, and Chios. The travel time is approximately 17 hours. The passenger ticket price ranges from €43 to €54, while the cost for a car is €120. The port of Lesvos is large and usually experiences heavy traffic, especially during the summer. Destinations to Lesvos are served year-round by conventional ships.
Ferry Routes Kavala - Lesvos: The direct journey from Kavala to Lesvos (Mytilene) is operated year-round by the ferry company Blue Star Ferries and lasts about 8 hours. The ticket cost for a passenger is €28, and for a car, it's €108.
The ferry routes from other islands in the Aegean include:
Agios Kirykos (Ikaria) - Mytilene (Lesvos) Ferry Routes
Vathy - Lesvos Ferry Routes
Evdilos - Lesvos Ferry Routes
Karlovasi (Samos) - Lesvos Ferry Routes
Limnos - Mytilene (Lesvos) Ferry Routes
Mesta (Chios) - Lesvos Ferry Routes
Mykonos - Mytilene Ferry Routes
Oinousses - Lesvos Ferry Routes
Syros - Lesvos Ferry Routes
Fournoi - Lesvos Ferry Routes
Chios - Lesvos Ferry Routes
Psara - Lesvos Ferry Routes
Through the booktickets platform, you can purchase online cheap ferry tickets for Lesvos with just a few clicks. Here, you will find all available routes with all available discounts for passengers and vehicles.