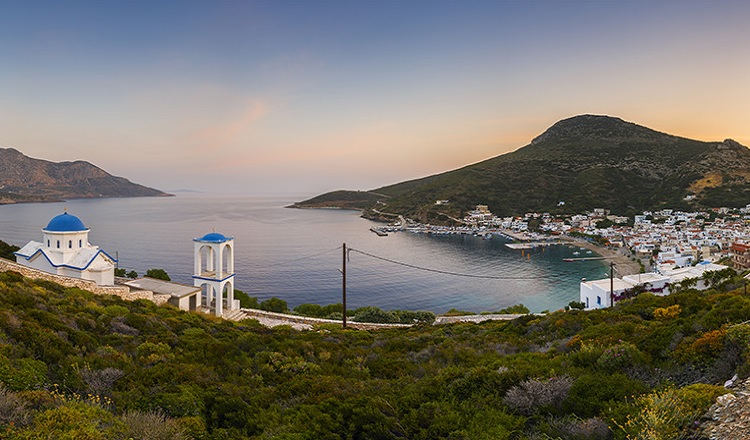 Fourni
The Fourni Islands are an island cluster in the eastern Aegean Sea, located between Ikaria and Samos. It consists of two larger islands, Fourni and Thymaina, as well as around 20 smaller islands. Administratively, they belong to the region of Samos. It is a peaceful destination that is ideal for those who want to relax and explore nature.
BOOK NOW
History of Fourni
The history of Fourni seems to originate from ancient times. There is evidence that Fourni was known for its marble production and supplied the ancient city of Miletus. Even today, there are ruins of ancient quarries on the island. It is believed that the first inhabitants of the island were Ionians, known as the "Korasiae" or "Korseiae" in antiquity. From there, the name "Fourni Korseon" originated and is still used today. During the Byzantine period, Fourni served as a refuge for pirates, and the smaller islands were abandoned.
According to archival documents, Fourni was resettled again from the mid-18th century, initially by residents of the Dodecanese and later by people from other regions of Greece. During the period of Ottoman rule, it fell under the hegemony of Samos and played a significant role in naval battles during the Greek War of Independence in 1821. The inhabitants of Fourni engage in fishing, livestock farming, beekeeping, construction, trade, and tourism. Additionally, a large percentage of the population are seafarers.
Beaches in Fourni
Kampi Beach: It is approximately 1 kilometer away from the port. You can reach it on foot or use transportation and park on the hill, as access to the beach is via stairs. It is an unorganized beach without umbrellas and beach bars, but there are plenty of trees that provide ample shade. After swimming in the clean and turquoise waters, you can enjoy fresh seafood and cooked dishes at the taverns located right on the beach, as well as refresh yourself by ordering a beverage from the beach kiosk.
Psili Ammos (Fine Sand): It is located a 5-minute walk from the center of the island. It is the only organized beach in Fournoi, with umbrellas and a beach bar that operates all day and throughout the night.
Fournoi is surrounded by many beautiful beaches and coves with crystal clear waters. With transportation or a small boat, you can visit Agios Ioannis, Vitsilia, Vlichada, Kassidi, Kamari, Bali, Petrokopio, Elidaki, Aspa, Kumara, Ambelo, and other beaches.
Across from Fourni is the island of Thymaina, an authentic fishing village with the beautiful beach of Karamaida. You can rent a boat and explore the rugged and picturesque coasts of Thymaina, such as Lakko, Ikariotiko, and Agios Nikolaos. In the settlement of Chrysomilia, you will also find Chrysomilia Beach and Agia Triada Beach. Additionally, you can find taverns offering rich fresh seafood at the beaches of Chrysomilia, Kamarion, Karamaida, and others.
Sights in Fourni
Agios Minas: It is the third-largest island in the Fourni cluster, located between Samos and Ikaria. Geologically, it consists of schist and limestone formations, with steep coasts and numerous small coves that are visited by many boats for swimming. The island is home to protected bird and plant species and is part of the European Natura 2000 program. Additionally, there is a fish farm on the island, and research programs for fish farming are carried out. On the island's terrain, various plants flourish, such as thyme, shrubs, throubi, and sage, while many bird species reproduce here, such as the black-headed bunting and the shag.
Make a reservation for a ferry trip to Fourni on booktickets and discover the "Polynesia of the Aegean," a unique landscape of exotic natural beauty with lace-like beaches and hidden water passages. Visit the ancient marble quarry from the Roman period in the bay of Petrokopio. This imposing archaeological site is filled with unfinished architectural elements in various sizes and shapes, such as archaic Ionic capitals, column shafts, rectangular parallelepipeds, and cubes. According to myth, pieces of marble were used for the construction of architectural monuments in the neighboring ancient city of Ephesus.
Take a stroll through the picturesque cobblestone alleys of Kampos, with its mulberry trees and low white houses with blue windows. Don't miss a visit to the central square of Agios Nikolaos with its impressive Roman marble sarcophagus, giant plane tree, and traditional cafes. Sit and enjoy a coffee and homemade desserts in the shade.
Organize a day trip to the idyllic destination of Thymaina to swim in the enchanting beach of Karamaida and taste exceptional seafood at the fish taverns there. Don't forget to visit the chapel of Agios Dimitrios with its panoramic view of the area.
Enjoy romantic walks in the amphitheatrical village of Chrysomilia, one of the most picturesque fishing villages in the Aegean.
How to travel to / from Fourni?
There are ferry routes from Piraeus to Fourni at least three times a week during the summer. The duration of the ferry trip from Athens to Fourni is approximately 7-10 hours.
Ferry routes from Athens (Piraeus) to Fourni: During the summer, there are at least 3 ships from Piraeus to Fourni every week. The ferry journey from Athens to Fourni takes about 7-10 hours.
Ferry routes from Samos (Pythagoreio) to Fourni: Throughout the peak season, there are at least 2 ships from Samos (Pythagoreio) to Fourni every week. The ferry route from Samos (Pythagoreio) to Fourni takes 1 hour.
From Pythagoreio in Samos, there are at least two ferry routes to Fourni every week during the peak season. The ferry trip from Samos (Pythagoreio) to Fourni takes about 1 hour.
The most popular ferry routes to and from Fourni are as follows:
Ferry routes from Fourni to Piraeus
Ferry routes from Ikaria (Evdilos) to Fourni
Ferry routes from Ikaria (Agios Kirikos) to Fourni
Ferry routes from Fourni to Ikaria (Evdilos)
Ferry routes from Fourni to Ikaria (Agios Kirikos)
Ferry routes from Fourni to Mykonos
Ferry routes from Samos (Karlovassi) to Fourni
Ferry routes from Fourni to Ikaria (Evdilos)
Ferry routes from Fourni to Samos (Vathi)
Ferry routes from Samos (Vathi) to Fourni
Ferry routes from Mykonos to Fourni
Ferry routes from Ios to Piraeus
Once you choose the appropriate ferry route, you can easily and quickly book your ferry ticket through booktickets. Complete your reservation and secure your place on the ship in a timely manner.