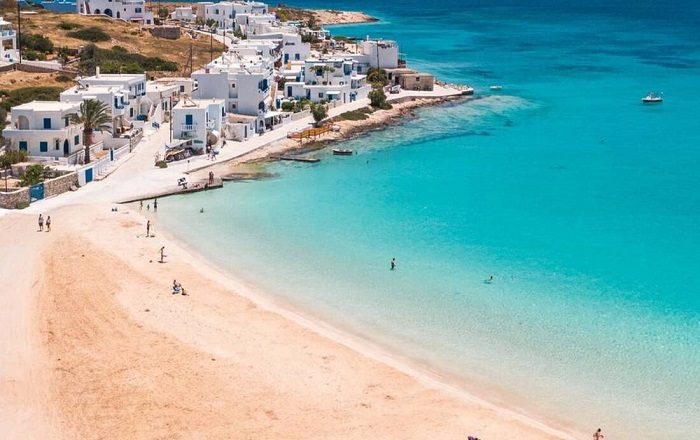 Koufonisia
Koufonisia are a cluster of two islets southeast of Naxos and west of Amorgos. They are fishing villages, and all families are engaged in fishing. Koufonisia were discovered by tourism only in the last ten years, and the area still preserves its authentic charm.
BOOK NOW
History of Koufonisia
Koufonisia have been inhabited since prehistoric times. Excavations in the area of Upper Myloi revealed significant burial findings from the early stages of the Cycladic civilization.
The people of Koufonisia often collaborated with the Maniots and other pirates, using the strait between Upper and Lower Koufonisia as a safe refuge. During the 17th century, amidst the major conflicts between Venice and Turkey, the Koufonisia inhabitants faced blockades and famine. They were forced to consume wild bulbs found on their barren island, including humble lupines used as animal feed.
The liberation of Koufonisia, along with the rest of the Cyclades, occurred after the Greek Revolution of 1821.
Sights in Koufonisia
Mills: The residents of Koufonisia are mainly engaged in producing goods for their families. A significant sector is wheat milling, with two mills operating, which are also points of great interest on the island.
Karagiο: Koufonisia boast the largest fishing fleet in Greece, and there used to be two ship repair and maintenance spaces called "karagiο." Today, only one remains in the area of Loutro.
Pool: On the eastern side of the island, there is a natural pool. To reach it, you have to walk along the coast to the east, passing through Platia Pounta and Pori beaches. The pool is a sea space surrounded by rocks, offering a unique diving and swimming experience.
Trypiti or Gala: This is a large hole in the ground accompanied by a beach. It is located in the peninsula of Pori and is named either "Trypiti" or "Gala." Visitors can swim in the hole and enjoy a unique swimming experience on the enclosed beach.
Caves in Xylompati Bay: North of Pori Bay, there are two caves hidden in the rocky area of Xylompati Bay. One cave is through, while the second one is blind and leads to a small beach, offering refreshment and relaxation. Xylompati Bay is in the direct path of the northern sea current, and when the winds are strong, access to the caves may be challenging.
How to travel to / from Koufonisia?
There are daily ferry routes to Koufonisia from Athens. During the summer, the schedules are more frequent, and there are also many daily routes from other Cyclades islands. Specifically:
For the best coordination of your trip, various ferry companies offer routes to Koufonisia, such as Blue Star Ferries, Seajets, and Small Cyclades Lines. You can find information about all ferry routes and ticket prices on booktickets. Details regarding ferry departure schedules and journey duration are also provided to help you plan your trip on time. Additionally, you can book online cheap ferry tickets with all passenger and vehicle discounts!