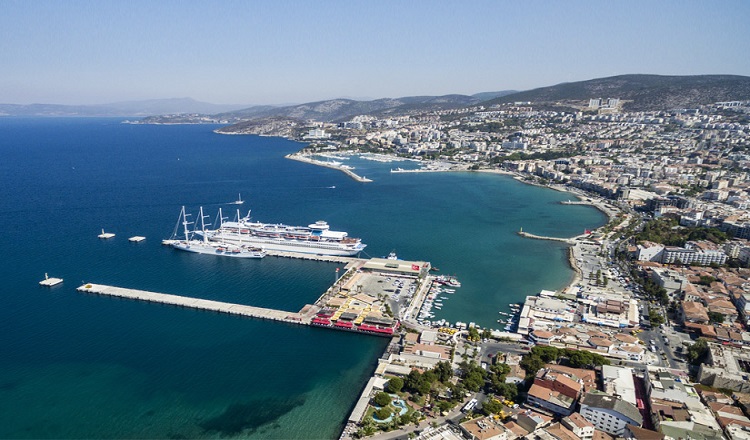 Kusadasi
Kusadasi is one of the most famous seaside resorts on the Turkish coast, located in the Aydın Province. The region has a total population of 90,652 inhabitants, and its name means "Bird Island," referring to the shape of the peninsula resembling a bird's head.
BOOK NOW
History of Kusadasi
Kusadasi (ancient Ephesus) has been inhabited since 3000 BCE. During the first Greek colonization, Neopolis was founded as one of the cities but later lost its influence with the conquest by neighboring Ephesus. The port came under Turkish control in 1086 but was later regained by the Byzantines before becoming part of the Ottoman Empire in 1413. The Ottomans expanded the city walls. Until the 1970s, it was a fishing village with around 5,000 inhabitants before developing tourism. Today, tourism is the dominant industry in the city. The port hosts cruise ships, and there is maritime connection with Samos.
Beaches in Kusadasi
Kusadasi is a city in western Turkey, known for its beaches, historical landmarks, and vibrant atmosphere. Some of the most famous beaches include:
At Green Beach, you will see palm trees that create a tropical scenery along with the sandy shore.
Near the port, you will find Yılancı Burnu, one of the most peaceful beaches.
Kadinlar Denizi, also known as Ladies Beach, offers sandy shores and numerous cafes. It is located just 2 kilometers away from the port. Additionally, you can rent equipment for water sports such as jet skiing and jet car.
Kustur Beach is situated 6 kilometers away from the port and offers activities such as surfing and water skiing.
Sights in Kusadasi
One of Turkey's most famous attractions, Ephesus, is just 20 kilometers away from the port. The archaeological ruins of the ancient city and the Temple of Artemis are listed as a UNESCO World Heritage Site. In the same area, you will also find the Library of Celsus, one of the most renowned monuments in Turkey. Access to Ephesus is easy via buses from the city center.
Discover Kaleici, the Old Town of Kusadasi. Its main street, Barbaros Caddesi, leads to remnants of the Ottoman walls.
The Grand Bazaar, the city's large market, starts from the port and extends into the narrow streets. There, you can shop and find everything from hookahs and ceramics to pashminas and hammam towels.
How to travel to Kusadasi?
The ferry companies Meander Travel and Makri Travel operate daily routes from Samos to Kusadasi.
Ferry route from Samos to Kusadasi: The ships to the port of Kusadasi depart from two ports in Samos, Pythagoreio and Vathi. Daily ferry schedules are available from Samos to Kusadasi during the summer months, and the duration of the journey is approximately 1 hour.
At booktickets, you will find valuable information about the city of Kusadasi, all ferry routes connecting Kusadasi to nearby destinations, and you can easily and simply book your tickets.