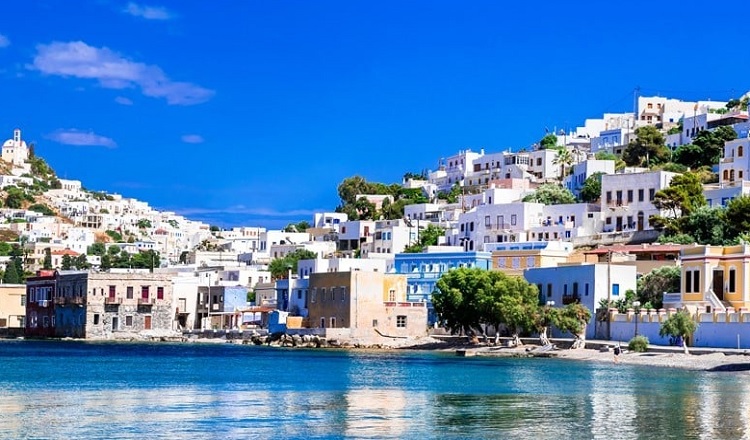 Leros
The island of Leros is located in the northern part of the Dodecanese, a few miles south of Patmos. On its southern side, it is separated by a relatively narrow sea passage from Kalymnos. It is an island for those seeking a peaceful destination and prefer to escape the noise of vacation.
BOOK NOW
History of Leros
Leros is also known as the island of Artemis. The first inhabitants were the Phoenicians. In 1309, it was abandoned by the Knights Hospitaller, who held it until 1521 when it was taken over by the Turks. In 1932, with the Treaty of Lausanne, the islands remained permanently under Italian control. In 1940, Leros experienced harassment and bombings by the British air force. After the Italian armistice, English reinforcements arrived on the island. The island would then be subjected to continuous German bombings.
On September 26, the glorious Greek torpedo boat destroyer "Vasilissa Olga" and the English ship "Intrepid" were sunk by German airplanes. On November 18, the island was abandoned after fierce battles with the Germans. It was under English occupation until May 31, 1947. On March 7, 1948, it was formally incorporated, along with the rest of the Dodecanese islands, into Greece. Like the history of Greece, the history of Leros dates back to ancient times and continues until today.
Beaches in Leros
Alinda: A large organized beach with sandy and pebbly areas. Umbrellas and sunbeds are available, and there are many tamarisk trees along the waterfront. Visitors can find all the necessary shops, from convenience stores and mini-markets to cafes, bars, and restaurants.
Agios Spyridonas: A cove with sand, pebbles, and a shipwreck in its shallow waters. It is adjacent to Merikia Beach.
Agia Kioura: A small, beautiful remote beach with sandy areas in the sea and pebbles on the shore. Access is relatively easy via a dirt road that starts from the historic church of Agia Kioura in Partheni. The beach is untouched and does not have any beach bars or umbrellas.
Agia Marina: The long sandy beach of the settlement, with the historic windmill in the background. Its shallow waters are suitable for families with young children.
Vromolithos: The beach of the homonymous settlement. It has an organized section with sand, pebbles, and tamarisk trees for shade. It overlooks the island of Agia Kyriaki. Within a stone's throw, there are beach bars and restaurants.
Gourna: A large organized beach with greenish-black sand and tamarisk trees for shade. The sea is deep and at a significant distance from the shore. There are cafes, snack bars, convenience stores, and restaurants.
Dyo Liskaria: The cove is located just after Panagies. It is a small organized beach with sandy areas protected from the winds and tamarisk trees. There are cafes, snack bars, and a restaurant.
Koulouki: Consists of three consecutive coves with sandy beaches and pine trees. The second cove has a cafe, snack bar, and restaurant to cater to visitors' needs.
Sights in Leros
Climb up to the Castle of Leros, which is located above Platanos and Panteli. The impressive Byzantine Castle of Panagia offers breathtaking views from its ramparts. Inside the castle, you will find the medieval church of Panagia tou Kastrou, which houses the icon of Panagia tou Kastrou, as well as a small museum with religious artifacts.
You can also visit Platanos, Agia Marina, and Panteli. The road to the north leads to the bustling port of Agia Marina, which serves as an arrival and departure point for catamarans from Kos and Rhodes. Along the coastal promenade, you will find cafes, pastry shops, and the local fish market.
I recommend visiting the Tower of Belleni, located in Alinda, Leros. The tower was built around 1903 and is a two-story stone building with its three-story turrets. It is situated on the coastal road and displays exhibits from the Battle of Leros during World War II. During the summer, the tower hosts cultural events such as local dances, theatrical performances, and shadow puppet shows for children, presented by renowned Karagiozis players.
Another interesting destination is the Unique War Museum of Leros. It is located in the area of Merikia and consists of an underground tunnel network of great historical significance. The tunnels house exhibits from World War II, such as weapons, maps, photographs, and period uniforms. Additionally, outside the museum, a small military museum has been created, showcasing decommissioned fighter aircraft and military vehicles.
You can visit Agia Kioura, also known as Agia Kioura tou Partheniou. It is a small chapel built in the 18th century between the promontories of Blefouti and Partheni. There, you can admire the icons of Agia Kioura and enjoy the tranquility of the space. During your visit to Leros, you will have the opportunity to explore the history and culture of the place.
How to travel to Leros?
You can visit Leros in various ways. One way is by taking the ships of the Dodekanisos Line, such as Blue Star Ferries and Superfast Ferries, which depart daily from Piraeus and provide connections to our island's ports, including Leros. Specifically, there is also the option of coastal transportation between the ports of Leros and neighboring islands using "Catamarans." Catamarans offer connections to the islands of Samos, Fournoi, Ikaria, Patmos, Lipsi, Kalymnos, Symi, and Nisyros, as well as to the islands of Kos and Rhodes, which belong to the Dodecanese group. These connections are made daily at regular intervals.
Additionally, visitors can use the ship "Kalymnos," which operates four times a week between Leros and other ports. The ship departs from the island of Kalymnos and passes through the ports of Samos, Agathonisi, Arkoi, Lipsi, and Patmos. Furthermore, there are other ships such as "Katerina" (Mouggros), based in Leros, and "ANNA EXPRESS," based in Lipsi, which operate the Leros-Kalymnos route and vice versa on a daily basis. "ANNA EXPRESS" departs from Xirokampos Ag. Marina - Lakki and arrives at Myrties.
You can select ship itineraries and issue ferry tickets for the following ports:
Ferry routes from Leros to Agios Kirykos
Ferry routes from Leros to Agathonisi
Ferry routes from Leros to Athens
Ferry routes from Leros to Arkoi
Ferry routes from Leros to Vathy
Ferry routes from Leros to Ikaria
Ferry routes from Leros to Kalymnos
Ferry routes from Leros to Karpathos
Ferry routes from Leros to Kasos
Ferry routes from Leros to Kavala
Ferry routes from Leros to Kos
Ferry routes from Leros to Lesbos (Mytilene)
Ferry routes from Leros to Limnos
Ferry routes from Leros to Lipsi
Ferry routes from Leros to Mykonos
Ferry routes from Leros to Patmos
Ferry routes from Leros to Panormitis
Ferry routes from Leros to Piraeus
Ferry routes from Leros to Pythagoreio
Ferry routes from Leros to Rhodes
Ferry routes from Leros to Samos
Ferry routes from Leros to Symi
Ferry routes from Leros to Syros
Ferry routes from Leros to Fournoi
Ferry routes from Leros to Chios
After choosing the appropriate coastal route, you can easily and quickly book your ferry ticket through booktickets. Complete your reservation and secure your place on the ship in a timely manner.