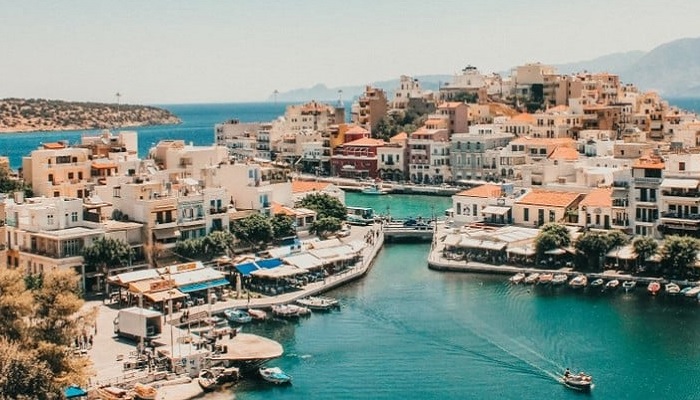 Agios Nikolaos
Agios Nikolaos is the capital of the Lasithi prefecture. The city boasts exceptional museums and impressive Byzantine churches, an excellent pedestrian walkway system for strolls and coffee, and a well-organized marina. During the summer, many visitors gather at the famous bars and cafes in the port and the picturesque Lake Voulismeni.
BOOK NOW
History of Agios Nikolaos Crete
The city of Agios Nikolaos in Crete has a rich history. It was the Dorian city of Lato, whose ancient harbor was Latos to Kamara, today's Agios Nikolaos. In the 3rd century BC, this city flourished as a commercial port and a mercenary dispatch center. Both autonomous cities continued to exist until the 6th century BC.
In 1206, the Genoese pirate Enrico Pescatore built the Mirabello fortress, giving the name Merabello to the entire area of Agios Nikolaos. Later, Crete fell into the hands of the Venetians. During the Turkish occupation, Agios Nikolaos was resettled after the revolution of 1866. Tourism began in the 1960s, and today Agios Nikolaos is a small town that thrives on tourism, with stunning beaches, exceptional monuments, and a lively nightlife. At the same time, the surrounding villages offer authentic experiences of Cretan life. Agios Nikolaos, despite its growth in size, maintains its maritime identity with its port and marina, attracting thousands of tourists every summer.
Beaches in Agios Nikolaos Crete
Agios Nikolaos offers many beaches within the city or in close proximity to the center. Below, we present all the beaches in Agios Nikolaos:
Havania Beach: It is a beautiful sandy beach in the northern outskirts of the city, on the road to Elounda. It is an organized beach, and you will find restaurants nearby.
Ammoudi Beach: It is a small beach in the heart of a large bay within Agios Nikolaos. The beach is organized, and you can engage in water sports. Due to its size, it can get crowded on some days. However, it benefits from protection against strong northern winds. Continuing on the road that passes in front of this beach, you will reach the Chapel of Agios Nikolaos, renowned for its frescoes.
Kitroplatia Beach: It is located within a short distance from the center of Agios Nikolaos. From the bridge in the city center, follow the straight road M. Sfakianaki, and in a few minutes, you will arrive at Kitroplatia. The beach is organized, and if you get hungry, there are many restaurants and taverns in the area for ouzo and meze.
Ammos Beach: It is situated on the southern side of Agios Nikolaos, just beyond Kitroplatia, immediately after the marina. If you have a boat, you can anchor it at the marina and take a swim right next to Ammos Beach. As the name suggests, this beach is a wonderful sandy stretch with umbrellas, sunbeds, restaurants, and hotels surrounding it.
EOT Municipal Beach: Here, you will find Mini Golf for those who want to do something different besides sunbathing and swimming. The beach has pebbles, unlike the previous beaches within Agios Nikolaos, but the area is well-maintained with a thick carpet of green lawn and many trees that provide shade from the hot Cretan sun. Additionally, there is a pool for both adults and children in the area, as well as a café-bar if you want to have a drink or a bite to eat.
Almyros Beach: It is the best and largest beach in Agios Nikolaos, located in the southern outskirts of the city, 2.5 kilometers from the center. Its name comes from the Almyros River that flows here, and its delta is a protected wetland. The beach has sand, is quite spacious, and is situated within a closed bay. The water is very shallow, making it safe for small children to swim. The beach is organized, and you can engage in water sports.
Ammoudara Beach: It is located south of Almyros, is organized, and gets crowded on weekends in July and August. Around the beach, you will find many taverns and small hotels if you decide to stay in the area. Note that there is also an Ammoudara Beach west of Heraklion.
Sights in Agios Nikolaos Crete
Agios Nikolaos, the capital of Lasithi, is situated in an exceptional location atop a hill overlooking the Mirabello Bay. Its harbor is separated by a circular lake, Lake Voulismeni, with seaside taverns and cafes. At night, the area comes alive with bars and young Greeks seeking entertainment.
Additionally, the following attractions are described:
Lake Voulismeni: A small circular lake with restaurants and therapeutic properties.
Spinalonga, Elounda: A fortress on a rocky island.
Holy Temple of Panagia Kera: A church with magnificent Byzantine frescoes.
Vai Palm Forest: Crete's most exotic beach with the largest palm forest in Europe.
Chrissi Island: A tropical island with crystal-clear waters and pink sand.
Gournia Archaeological Site: An archaeological site with excavations from the Minoan period.
Kitroplatia Beach: A beach near the center of Agios Nikolaos.
Lower Zakros Gorge: An impressive gorge with caves and beautiful scenery.
These locations offer a variety of experiences for visitors to the Agios Nikolaos area.
How to travel to / from Agios Nikolaos Crete?
One of the easiest ways to reach Agios Nikolaos is to use a combination of a ferry and a bus from the ports of Heraklion or Sitia. There are frequent ferry routes departing from the port of Piraeus to the ports of Heraklion and Sitia. Additionally, there are daily bus routes that can transport you to Agios Nikolaos from the major cities of Crete.
The bus journey from Heraklion to Agios Nikolaos takes approximately 1 hour, while the journey from Sitia to Agios Nikolaos takes about 1.5 hours. Furthermore, Agios Nikolaos is approximately 60 kilometers from Heraklion's Nikos Kazantzakis Airport and around 67 kilometers from Sitia's Vincenzo Coronaro Airport.