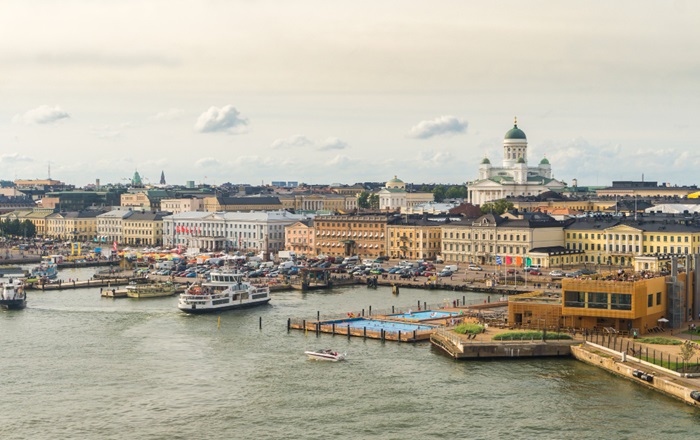 Helsinki
The city of Helsinki, with a population numbering one million residents, serves as the capital of Finland. Geographically, the country shares its borders with Sweden and Russia, while it is bordered by the sea to Estonia.
BOOK NOW
History of Helsinki
The history of Helsinki is rich and includes many significant moments and developments. Here is a brief overview of the history of the capital of Finland:
Early Years: The first known references to the place that would later become Helsinki date back to the 16th century when it was under Swedish rule.
Swedish Sovereignty: During the Swedish period, the city developed and became an important port and trade center.
Conquest by Russia: In 1809, after the war between Sweden and Russia, Finland came under Russian sovereignty, and Helsinki became the capital of the new autonomous Grand Duchy of Finland.
Independence of Finland: In 1917, Finland declared its independence from Russia, and Helsinki became the capital of the new independent country.
World War II: During World War II, Finland was at war with the Soviet Union. Helsinki suffered significant damage during the war but was later rebuilt.
Post-War Period: After the war, Helsinki emerged as a modern capital city and became a center of culture and commerce in Finland.
Contemporary Era: Today, Helsinki is a modern city with architectural landmarks, parks, numerous museums, universities, and plays a significant economic role in Finland.
The history of Helsinki reflects the significant developments in Finland and a period marked by geopolitical changes in the Baltic region.
Sights in Helsinki
Helsinki is full of attractions that offer a diverse experience for visitors. Among the popular city attractions are:
Helsinki Cathedral: This iconic Orthodox cathedral, made of white granite, is considered a symbol of the city.
Hame Castle: Hameenlinna Castle is a stately castle dating back to the 13th century, offering impressive architecture and museum exhibitions.
Kiasma Museum of Contemporary Art: This museum showcases contemporary art from Finnish and international artists and is known for its striking design.
Sibelius Park: This beautiful park is dedicated to the renowned Finnish composer Jean Sibelius and features an impressive sculpture exhibition in his honor.
Helsinki Harbor: The harbor of Helsinki is a lively area with restaurants, cafes, cruise ships, and excursion activities.
Finlandia Hall: This museum offers extensive exhibitions on the history and culture of Finland.
Central Square: This central square in Helsinki is a popular destination for shopping, dining, and entertainment.
Presidential Palace: This impressive palace serves as the residence of the presidential couple of Finland.
Sea Life Helsinki: This aquarium offers impressive marine life exhibitions and is ideal for family visits.
These are just a few of the many attractions you can visit in Helsinki. The city offers a plethora of cultural, historical, and natural attractions to suit every taste.
Activities in Helsinki
In Helsinki, there are many activities you can enjoy during your visit. Some of these include:
Walking and Biking: The city has numerous sidewalks and bike paths, making it ideal for walking and biking. You can take a stroll in the city center or explore the seaside promenade.
Museum Visits: Helsinki boasts several interesting museums, such as the Kiasma Museum of Contemporary Art, the National Museum of Finland, and the Sea Life Helsinki Aquarium.
Visit to Helsinki Cathedral: You can explore this impressive cathedral and enjoy the panoramic view from the central tower.
Northern Gulf Cruises: Embark on a cruise from the Port of Helsinki and enjoy views of the city from the sea.
Presidential Palace Visit: Observe the impressive palace and the stern guards that guard it.
Excursions to Nearby Islands: You can go on excursions to the nearby islands of Helsinki, such as Suomenlinna, Nuuksio National Park, and Seurasaari Open-Air Museum.
These are just a few of the activities you can enjoy in Helsinki. The city offers a variety of options for all interests and tastes.
How to travel to / from Helsinki?
Some popular ferry routes to Helsinki include the following:
Ferry Routes Stockholm - Helsinki: The route is operated by the ferry company Tallink in less than 16 hours with a passenger ticket cost of €98.
Ferry Routes Mariehamn - Helsinki: The ferry company Tallink regularly operates the Mariehamn - Helsinki route with a passenger ticket cost of €93 and a duration of 10 hours and 30 minutes.
Ferry Routes Tallinn - Helsinki: The city of Tallinn in Estonia is connected to Helsinki by ferry. The ferry company Viking Line operates this route daily in 2.5 hours, with passenger ticket costs ranging from €19 to €23.
How to Book Ferry Tickets to Helsinki?
On the booktickets platform, you can find all ferry routes to Helsinki, departure times, and ferry companies. Compare prices and easily book cheap ferry tickets for passengers and vehicles online.