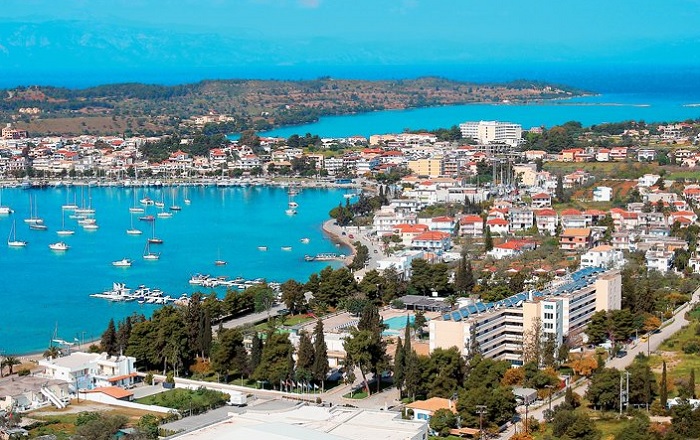 Porto Heli
Porto Heli, also known as Portocheli, is a coastal town located in the Argolis regional unit in the southern part of the region. This location is ideal for boat owners, as the town's harbor boasts excellent infrastructure and ample capacity.
BOOK NOW
Beaches in Porto Heli
Porto Heli Beach: This beach is located just 500 meters from the Porto Heli marina. It features a sandy beach with golden sand and crystal-clear waters. Enjoy the view of the "Tower of Hellas" and the fishing boats, offering a picturesque landscape for relaxation. It is an organized beach with a beach bar and amenities such as sunbeds, umbrellas, and showers. In the surrounding area, there are also excellent restaurants and fish taverns.
Costa Beach: It is located in close proximity to Porto Heli and is less than 5 kilometers away from the Porto Heli Marina. This beach is ideal for families with young children, with shallow and clear waters. On its backside, you'll find the picturesque village of Costa.
Xenitsa Beach: Within close distance from Porto Heli Marina is the organized Xenitsa Beach, which consists of a beautiful little island. It is a favorite destination for both Greeks and foreign holidaymakers seeking relaxation.
Agios Emilianos: Agios Emilianos is a cape approximately 6 kilometers from Porto Heli. It is known for its natural beauty, with pine trees reaching down to the sea and a beautiful beach with pebbles, sand, and crystal-clear blue waters.
Kounoupi Beach: Located 6.3 kilometers from the marina, Kounoupi Beach is considered one of the most beautiful in the area. The waters are turquoise, the sand is white and fine, offering an exceptional experience.
Ververonda: Ververonda Beach is 4.3 kilometers west of the marina and is one of the largest pine-covered beaches in the area. It offers umbrellas, a cafe-bar, and a restaurant for moments of relaxation.
Limaniakia Beach: This beach consists of two small coves, one of which is suitable for children due to its shallow waters, while the other has deeper waters for those who love deep blue sea. It is ideal for water sports such as water skiing, windsurfing, kiteboarding, sailing, snorkeling, and jet skiing.
Sights in Porto Heli
The Chapel of Agios Emilianos: It is situated on a hill and offers an amazing view and tranquility. Weddings and baptisms are often held there, and access is open to all visitors who want to enjoy this enchanting experience.
The Sunken Ancient City of Aliki: It is one of the most important attractions in the southern region. Archaeological excavations have been conducted since the early 20th century, revealing ancient temples, a stadium, and many ancient artifacts. Submerged underwater are the remains of the wall of the ancient harbor and the sunken colonnade of the temple of Apollo.
Kranidi: It is built amphitheatrically on hills and offers beautiful contrasts between the rocky formations and the vegetation. Despite being located on the mainland of Argolis, it has cultural influences from the islands of the Saronic Gulf, which are reflected in its architecture. When visiting Kranidi, you feel like you are on an island.
Ververonda Lagoon: Located northwest of Porto Heli, it is one of the top attractions in the area. It is known as a pirate refuge in the past and is considered a therapeutic lagoon. It is ideal for water sports such as surfing and is easily accessible by car, as it is close to the coastal road.
Activities in Porto Heli
A visit to Porto Heli is an escape from everyday routine. Its stunning beaches offer a wide range of activities, not only for swimming and fishing but also for all kinds of water sports. There are specialized instructors who can assist you in engaging in activities such as water skiing, windsurfing, kiteboarding, windsurfing, sailing, jet skiing, and diving.
For those familiar with these sports, there is an option to rent small speedboats to explore the area from the sea, a truly exciting experience. Additionally, you can rent bicycles to explore the lush nature and beautiful village of the region. Porto Heli even has open tennis courts for those who wish to engage in sports.
How to travel to / from Porto Heli?
Every day, there are ships departing from the port of Piraeus and reaching Porto Heli. These ships also connect with Hydra, Poros, and Spetses. The ferry company that operates these routes is Blue Star Ferries.
Ferry Routes Piraeus - Porto Heli: At least three routes depart from Piraeus to Porto Heli every day. The duration of the ferry trip to Porto Heli is approximately 3-3.5 hours, and the cost of a ticket for a standard seat is around €40.
Some popular ferry routes to/from Porto Heli and nearby destinations are as follows:
Ferry Routes from Porto Heli to Spetses
Ferry Routes from Porto Heli to Hydra
Ferry Routes from Spetses to Porto Heli
How to book ferry tickets to Porto Heli?
You can easily and conveniently find the ferry routes from and to Porto Heli on booktickets and book ferry tickets online at the best prices with all discounts!