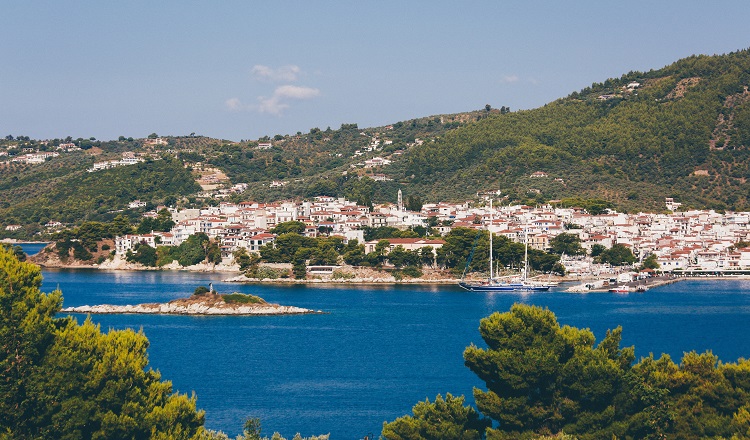 Skiathos
Turquoise waters with mirror-like reflections, unique Byzantine and medieval monuments of culture and architecture that blend island aesthetics with mainland influences, comprise the identity of the most cosmopolitan island state of the Sporades. Breathtaking nature of dense pine forests that descend to the coast, postcard-perfect beaches with golden sands
BOOK NOW
Beaches in Skiathos
Koukounaries: Renowned as Skiathos' most renowned beach and acclaimed as one of the Mediterranean's most exquisite, this idyllic paradise boasts fine golden sand embraced by a dense pine forest that stretches to the very edge of the azure sea. Adorned with numerous accolades, it offers exceptional amenities and is a haven for water sports enthusiasts. Whether you seek relaxation, excitement, or engaging activities, this beach caters to all, and its sunset vistas are truly magnificent. A natural channel leads from the beach to the enchanting Strofilia Lagoon nestled within the heart of the forest.
Banana Beach: Nestled in Krassa Bay, the twin beaches of Big and Small Banana present a stunning expanse adorned with pine trees, golden sand, and emerald waters. Big Banana, a favored spot among young people, transforms into a vibrant venue for exhilarating beach parties every summer. It also offers a wide range of water sports activities. On the other hand, Small Banana is a serene sanctuary beloved by nature enthusiasts and nudists.
Lalaria: Regarded as one of Greece's most exquisite beaches, Lalaria captivates with its breathtaking panorama of towering cliffs, crystal-clear aquamarine waters, and smooth white pebbles shaped by the northern winds. The rugged beauty of the landscape is further enhanced by the presence of the striking Rock Arch of Trypia Petra at one end of the beach. Accessible solely by sea, and only during calm weather, regular boat services operate from Skiathos port.
Vromolimnos: Situated on Cape Kalamaki, Vromolimnos unveils a beautiful coastline adorned with golden sand and tranquil, transparent waters. Named after a former shallow lake, now a dry marsh, this beach is enveloped by pine trees and offers water sport facilities, dining options, and beach volleyball courts. The vibrant atmosphere and lively energy, brought by the influx of young visitors, lend the place a special charm.
Kanapitsa: Positioned along the southern coast, Kanapitsa stands as one of the island's most popular beaches. The combination of fine golden sand and calm, turquoise waters creates an idyllic setting, while the surrounding coniferous trees extend all the way to the water's edge. This officially designated tourist beach offers facilities for a wide range of water sports activities. The location affords stunning vistas of the sea and Cape Kalamaki, particularly on moonlit nights.
Food in Skiathos
The cuisine of Skiathos stands out for its delicious combination of seafood and vegetables. In the island's restaurants, you can enjoy tasty traditional recipes such as:
Fish Stifado (with swordfish, dentex, grouper, or mullet): Baked fish with vegetables, cooked in a sauce with onions, tomatoes, wine, and herbs.
Boiled octopus with fava bean puree: Boiled octopus served with fava bean puree, drizzled with olive oil and lemon.
Prawns with cabbage: Prawns cooked with cabbage, garlic, and olive oil.
Cuttlefish with greens and fresh onions: Stuffed cuttlefish with greens and onions, cooked in an aromatic sauce.
Baked potato (filled with cheese): Baked potatoes stuffed with a variety of cheeses.
Additionally, don't miss the delicious Skiathos pies, such as the snail-shaped cheese pie and the kalapia (wild greens pie). The island's favorite sweet flavors include local almond-based desserts and spoon sweets made with almonds. Furthermore, Skiathos is known for its production of exceptional wine and tsipouro, which are worth tasting.
Sights in Skiathos
It's worth visiting the wonderful space of the Papadiamantis Museum, housed in the simple home of the renowned Skiathian writer and scholar of Greek literature. There, you will find a collection of rare treasures such as books, clothing, and personal belongings of the author, revealing unknown aspects of his life and 19th-century Skiathos.
It is also worth exploring the Strofilia Lagoon, a mesmerizing wetland located amidst a dense forest of pine trees and meadows. This place serves as a sanctuary for rare migratory birds and offers a unique experience.
Don't miss the opportunity to enjoy a romantic stroll in Bourtzi, a small peninsula with rich pine vegetation and a Venetian fortress dating back to 1207. From there, you will have an amazing view of the Aegean Sea.
Be sure to visit the historic Monastery of Evangelistria (1794-1806), where you can admire the impressive stone architecture and invaluable treasures it houses.
How to travel to / from Skiathos?
Explore enchanting Skiathos and neighboring islands in the Northern Sporades. Take a ferry from Volos and reach your destination in approximately 2.5 hours. You can also use Blue Star Ferries or Seajets to visit nearby islands from Skiathos. Specific routes include a two-hour and fifteen-minute trip to Alonnisos, one and a half hours to Skopelos, and just half an hour to Glossa.
Here are some of the most popular ferry routes:
Ferries from Volos to Skiathos: At least three daily departures from Volos to Skiathos. The ferry journey takes around 2 to 2.5 hours, with ticket costs ranging from €25 to €31.
Ferries from Skopelos to Skiathos: Multiple daily connections from Skopelos and Glossa to Skiathos. Operated by Blue Star Ferries and Anes Ferries, the trip lasts approximately 30 to 45 minutes, with ticket prices around €9.
Ferries from Alonnisos to Skiathos: During peak times, there are at least 2-3 daily connections between Alonnisos and Skiathos. The journey takes about 2 hours and tickets cost €15.
These ferry routes offer flexible options for island hopping in the Northern Sporades. You can easily book ferry tickets through the booktickets platform, where you'll find all available routes with the best ticket prices and discounts for passengers and vehicles.