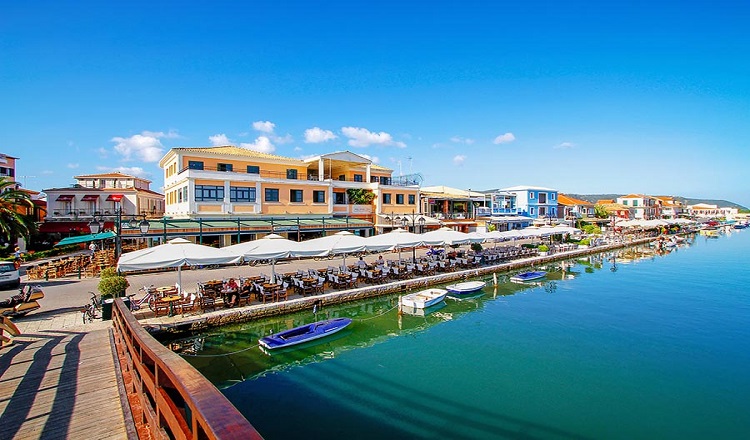 Lefkada
Lefkada is an island in the Ionian Sea, and it is the fourth largest among the Ionian Islands. It is located between the islands of Corfu and Kefalonia. Lefkada offers numerous attractions and is renowned for its lush and endless landscapes. Its beaches are breathtaking, while its coastline is picturesque and charming.
BOOK NOW
History of Lefkada
In the past, Lefkada was known as Agia Mavra, taking its name from the homonymous temple located within the castle of Agia Mavra. During the Byzantine period, Lefkada remained relatively obscure. During the Venetian rule, which began in 1684, Lefkada was once again integrated with the other islands of the Ionian Sea under Italian domination.
After the Asia Minor Catastrophe of 1922, refugees from Asia Minor settled in Lefkada. Initially, many of them settled in the castle of Agia Mavra. In 1963, the Greek shipping magnate Aristotle Onassis bought the island of Skorpios in the cosmopolitan area of Nydri, which gained worldwide fame. After World War II, the rural population dramatically decreased in Lefkada, with the number of farmers decreasing by about 80% compared to the total population of the 19th and the first half of the 20th century, as tourism became the dominant industry of the island, while agricultural activities significantly declined.
Beaches in Lefkada
Lefkada offers a wide variety of beaches to suit all tastes. From white pebble beaches to sandy shores, from beaches with big waves for water sports enthusiasts to shallow waters ideal for families and children.
Some of the popular beaches in Lefkada are:
Vasiliki Beach: A large pebble beach located in Vasiliki Bay, known for excellent sailing conditions. The beach also features water sports facilities and windsurfing rental centers. The town of Vasiliki offers many options for dining and shopping.
Mikros Gialos Beach: A popular beach on the eastern coast, near the bay of Syvota. It is well protected from winds and waves, with waters that resemble a lake. It is a pebble beach with crystal-clear waters, ideal for families with children.
Porto Katsiki: The most famous beach in Lefkada. Its stunning turquoise waters and large natural cliffs create a unique atmosphere. During the peak of the tourist season, it can get quite crowded. There is also an amazing sunset view. The beach is pebbly and provides rental sunbeds and umbrellas.
Egremni Beach: An exquisite large beach with sand and small pebbles, considered a paradise. It is undoubtedly one of the most beautiful and famous beaches in Lefkada. It offers sunbeds, umbrellas, and beach bars, as well as small private coves.
Kathisma Beach: One of the most popular beaches in Lefkada, with an endless stretch of sandy coastline. Here, you can engage in activities such as sea parachuting and other water sports. The beach also offers beach bars and taverns, as well as various accommodation options nearby.
Mylos Beach: A large natural beach near the famous Kathisma Beach. Unlike the other popular beaches on the west side, it remains untouched by tourism. The crystal-clear blue water and the sand create ideal conditions for relaxation and tranquility. There are no tourist facilities on the beach, so you will need to bring your own essentials such as water, sunbeds, and umbrellas.
Sights in Lefkada
The city of Lefkada is known for its numerous and significant attractions. Some of these include:
Castle-Fortress of Agia Mavra: It is worth visiting the well-preserved Venetian castle-fortress of Agia Mavra, built in 1300 by Ioannis Orsini. It offers a stunning view of the city and the sea.
Churches with frescoes and icons: The city of Lefkada has many churches with impressive frescoes and icons. Among them are the churches of Agios Spyridon, Agios Dimitrios, Agios Minas, Panagia ton Eisodion, and Christ Pantokrator. These churches are Venetian-era buildings and are impressive in terms of art and architecture.
Monastery of Panagia Faneromeni: Near the village of Fryni, you will find the Monastery of Panagia Faneromeni, built in 1634. This monastery attracts a large number of pilgrims and offers a unique experience.
Monastery of Panagia Odigitria: It is also worth visiting the Monastery of Panagia Odigitria, which was built around 1450 and is the oldest monastery on the island.
Church of Agios Ioannis Antzousis: This church is associated with the tradition that the Apostle Paul spread Christianity. It is an important spiritual center and a sight worth visiting.
Alabaster Cave: In the area of Agia Ekaterini, there is the magnificent Alabaster Cave with impressive stalactite and stalagmite formations. It is a natural treasure that is worth exploring.
Melissa Gorge: If you are a nature lover, you will enjoy a visit to the Melissa Gorge. It is known for its plane trees and the ten old watermills located there. Exploring it will reward you with a unique natural landscape.
These are some of the attractions you can visit in the city of Lefkada. Each one offers a unique experience and reveals the rich history and culture of the region.
Activities in Lefkada
Enjoy a plethora of water sports and activities in Lefkada! Below are some options at various points on the island:
Vasiliki - Windsurfing: The area of Vasiliki is renowned for windsurfing. In 2004, it was used as one of the windsurfing competition venues for the Athens Olympic Games. There are beach clubs that offer equipment rentals and lessons for those interested in this activity.
Vasiliki - Sea kayaking: You can rent sea kayaks and explore the island on your own. This is an excellent choice for adventure lovers who want to discover the coasts and picturesque spots of Lefkada.
Agios Ioannis - Kitesurfing: The northern areas of the island provide perfect conditions for kitesurfing. Agios Ioannis Beach is one of the top spots for kitesurfing, where you can enjoy the exhilaration of air and water while engaging in this activity.
Nidri, Vasiliki - Water sports: In Nidri, you can enjoy various water sports such as waterskiing, wakeboarding, or riding a floating couch. There are water sports facilities in the area where you can rent the necessary equipment.
Nikiana, Vasiliki - Diving: Lefkada offers excellent opportunities for diving. You can explore underwater caves, reefs, and old shipwrecks. There are many diving centers that offer lessons and organize boat trips to various diving sites.
Kathisma Beach - Parapente: The western coast of Lefkada offers exceptional conditions for paragliding (parapente). You can enjoy the air and the view as you fly above the sea. Kathisma Beach is particularly popular for this activity.
How to travel to Lefkada?
Lefkada is the only island that can be reached by car, as there is a bridge connecting it to Akarnania. There are daily bus routes to and from Lefkada operated by the KTEL bus service. Additionally, it is easy to reach the island from northwestern Greece via the Preveza-Aktio underwater tunnel and through the port of Igoumenitsa.
Lefkada is located 170 kilometers from Patras, 378 kilometers from Athens, and 420 kilometers from Thessaloniki. There are daily ferry boat routes from Nidri and Vasiliki to Meganisi, Ithaca, and Kefalonia, while small boats organize daily excursions to nearby islets.
By air, Lefkada is served by the Aktio Airport, which is located 18 kilometers from the town. There are daily flights from the Eleftherios Venizelos Airport in Athens and the Thessaloniki Airport to Aktio Airport.