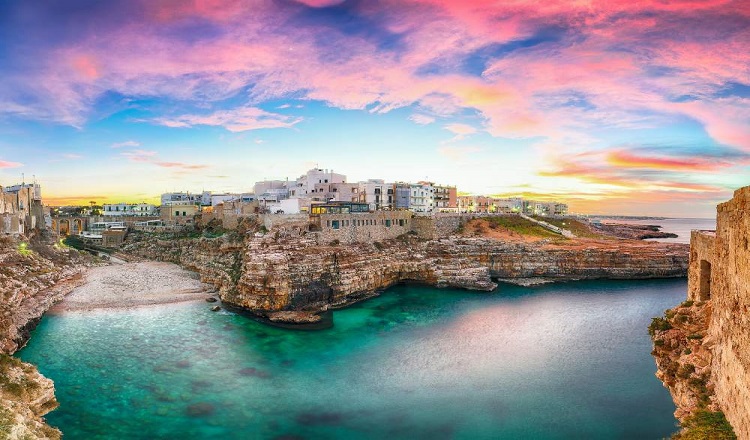 Bari
Bari is the capital of Apulia and the second largest city in southern Italy. It is a vibrant and commercial coastal city, serving as an important gateway to neighboring countries. The port of Bari serves as an entry point to Italy from Greece, with regular routes to and from Igoumenitsa, Corfu, and Patras. There are also connections to Albania and Croatia.
BOOK NOW
Ticket reservations for Bari
Make your ticket reservation for your trip to and from Bari by ferry, with the convenience and speed of our online system. Through the ticket reservation system of booktickets, you have the ability to instantly view real-time availability, prices, and departures for the ships to and from Bari, and book your tickets in just a few minutes.
History of Bari
The ancient settlement of Bari has deep roots, dating back to the Bronze Age and passing through various dominions, such as the Peucetians and the Goths, before being conquered by the Byzantines and Lombards. Medieval Bari suffered many devastations and experienced repeated plundering when it was captured by the Saracens. Later, it fell into the hands of the Franks before returning under Roman rule.
In 1087, with the arrival of the relics of Saint Nicholas of Myra, also known as Saint Basil, Bari became an important religious center that connected the East and the West. In 1558, it came under Spanish rule and witnessed bloody uprisings, while in 1657, it was struck by a severe plague. Subsequently, the sovereignty was transferred from Austria to the Bourbons, and in the early 1800s, it was revitalized during French rule with the construction of the new city. In 1815, it returned under Bourbon rule and was incorporated into the Kingdom of Italy in 1860. The eventful history of dominions has left Bari with a unique artistic heritage that everyone can enjoy.
Beaches in Bari
The beaches in Bari start from Lungomare and stretch far away. The southern coastline is filled with bays and coves, each with gorgeous beaches, beautiful seaside towns, and crystal-clear turquoise waters. Many consider this area to have the most beautiful coastline in Italy, and you will likely agree with them.
The crystal-clear waters in Polignano a Mare are particularly attractive, and you can choose between rocky or sandy beaches. Cala Porto beach is known for its smooth white pebbles, while Porto Cavallo has a sandy beach. Locals love Cala Paura beach, and there is a beach towards San Giovanni that offers all amenities, such as showers, sun loungers, and umbrellas.
If you desire a unique experience in the wider Apulia region, you can visit the ancient cities of Monopoli and Giovinazzo. Both of these charming towns have beaches right outside their walls with golden sand.
Sights in Bari
The Castello Svevo is the castle of Bari, which was built around 1132 by the Norman king Roger II. Today, it is used for exhibitions and events.
The Basilica di San Nicola is one of the earliest Norman churches in southern Italy and represents an exceptional example of architecture that combines elements of Roman architecture with those of Apulia.
The Cathedral of San Sabino, an 11th-century cathedral, was built on the site of an ancient Byzantine church and is the most important cathedral in Bari. Despite its slightly overshadowed reputation next to the Basilica di San Nicola, it is worth visiting. Additionally, you will find the Museo del Succorpo della Cattedrale there, which we mentioned before.
The Old Town of Bari, or Barivecchia, is the area where you can wander and experience the atmospheric "labyrinth" with its small, narrow, and uphill paths. In this area, you will find over 40 churches, and many cafes and bars have opened, although it was previously considered a dangerous area.
The Palazzo del Sedile is a palace that has undergone many changes over the centuries. In the past, it was used as the central building of the Council of Nobles of Bari.
Activities in Bari
Depart on a Superfast Ferries ship bound for Bari and enjoy a wonderful journey overlooking the Adriatic Sea and all the amenities provided during the trip.
When you arrive, immerse yourself in the modern rhythm of the city by strolling along the seaside promenade Lungomare and discover the vibrant contrasts through Vittorio Emmanuele Street, which will lead you to the Old Town. The Old Town is surrounded by medieval walls of Via Venezia and exudes all its Venetian splendor with its cobblestone streets and traditional houses.
For a relaxing experience, visit the modern neighborhood of Murat, where you can savor an authentic Italian espresso at one of the coffee bars and taste dishes and recipes with intense Italian flavors at a trattoria.
For those traveling by car, a good idea is to visit Alberobello, also known as the village of the hobbits. It is located in the Apulia region and is famous for its characteristic low houses with cone-shaped roofs. It is a UNESCO World Heritage Site and definitely worth a visit.
Don't forget that there are several commercial outlets near Bari as well.
How to travel to / from Bari?
Ferry routes to Bari from various ports in Greece:
Ferry routes and tickets from Patras to Bari: There are 6-7 ferry connections between Patras and Bari every week throughout the year. The journey from Patras to Bari and vice versa is operated by the ferry company ANEK-Superfast and takes approximately 16.5 hours, with a ticket cost of around 73 euros.
Ferry routes and tickets from Igoumenitsa to Bari: Ferry connections from Igoumenitsa to Bari operate daily, all year round. The duration of the journey from Igoumenitsa to Bari ranges from 9 to 11 hours. These routes are serviced by the company ANEK-Superfast.
Ferry routes and tickets from Corfu to Bari: During the summer, there are weekly ferry connections between Bari and Corfu. The ferry journey takes approximately 8 to 10 hours and is operated by ANEK-Superfast.
After selecting the appropriate ferry route, you can easily and quickly book online your ferry ticket through booktickets. Complete your reservation in a timely manner to secure your place on the ship.