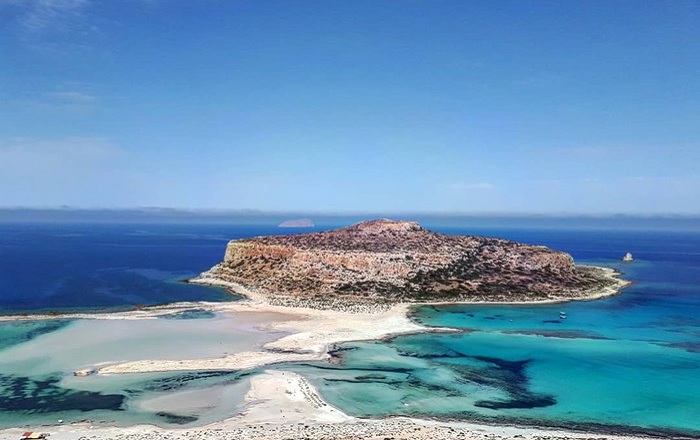 Kissamos
Kissamos, also known as Kastelli, is located in the northwestern part of Crete, in close proximity to the city of Chania. Thousands of visitors flock to it, especially during the summer. Its history, gorges, caves, picturesque villages, and unique beaches make Kissamos a beloved destination for tourists.
BOOK NOW
History of Kissamos Crete
The beginning of the history of the city of Kissamos is marked by its ancient port, known as the Black Harbor. In ancient times, this city emerged as an independent trading center with its own currency. During the Roman period, it flourished, as evidenced by archaeological findings. Names like "Cisamon" and "Kissamos polis" are mentioned by ancient writers such as Pliny and Ptolemy.
During the Byzantine era, it suffered damage from an earthquake but was rebuilt and also became the seat of a bishop, with the construction of many Christian churches. In 1204, during Venetian rule, the fortress "Castel Chissamo" was built on the site of ancient Kissamos. In 1211, the Venetians regained the city and renamed it to Kasteli, later renamed to Kissamos.
Throughout its history, Kissamos played a role in significant events, changing hands between Turks and Greeks during Ottoman rule. It also suffered damage during World War II, resulting in only a few sections of its walls being preserved.
Beaches in Kissamos Crete
Balos Lagoon: It's an earthly paradise with azure waters, white-pink sandy beaches, and incredible exotic beauty. The landscape is tropical and enchanting, featuring white-pink shaded sandy shores, cedar trees, and crystal-clear transparent waters. In the northern part, you'll find the lagoon, while the open sea stretches to the south. All these characteristics create a unique scenery reminiscent of Caribbean beaches.
Elafonisi: It's a small peninsula initially separated from the sea, creating the illusion of a separate island. The landscape is tropical and stunning, with fine, thin, white-pink shaded sandy beaches, emerald transparent crystal waters, and a natural lagoon to the north. The beach creates an exotic landscape and is even more beautiful due to the iridescent shades along its coastline, caused by tiny shellfish leaving their shells in the sand.
Falassarna Beach: Located 15 kilometers west of Kissamos, it's one of the most famous in Greece and has been awarded as the best beach in Crete. It has an extensive coastline, approximately three kilometers long, consisting of five consecutive beaches separated by rocks or sand dunes. The most popular is Pacheia Ammos, which is one kilometer long and exceptionally wide, never seeming crowded due to its impressive size.
Dialiskari Beach: It's one of the unique places in Greece where access is done in an original way. Visitors must first travel 1.5 kilometers north of Kissamos to the Church of Agios Ioannis tou Dialiskari. Once they complete this journey, they will encounter a small pebble bay with deep crystal-clear waters and imposing rocks. This beach is ideal for those who want to enjoy a peaceful swim, as there are not many facilities, just a few trees that can offer natural shade to visitors.
Sights in Kissamos Crete
Kissamos is renowned for its rich natural beauty and significant archaeological attractions.
The Archaeological Museum: Located in the central Tzanakaki square, it showcases remarkable findings from the Roman Hellenistic era to contemporary sites in the region. The exhibition is divided into sections based on chronological and local criteria and is spread across the ground floor and the first floor of the building.
The Komolithoi: These are hills about 35 kilometers west of Chania in Potamida Kissamou, composed of soft clay with unique formations that have been shaped over time due to erosion. In the past, this natural landscape held great value as it was used for constructing waterproof roofs.
The Pnevmatikakis Winery: Situated in Drapania, it specializes in producing Cretan wine. You can arrange a winery tour daily except on Sundays.
The Cave of Agia Sophia: Located near the village of Topolia, it is known for the stalagmites and stalactites that have formed there over thousands of years, as well as its religious significance.
How to travel to / from Kissamos Crete?
Ferry Routes Piraeus - Kissamos: The ferry company Seajets operates the Piraeus - Kissamos, Crete route twice a week with intermediate stops in Kythira and Antikythera, allowing you to explore these beautiful islands. The duration of the journey is approximately 10.5 hours, and the ticket cost is €23.
Ferry Routes Gytheio - Kissamos: From the Peloponnese, you can book your ferry tickets from the port of Gytheio in Laconia with the Seajets company. The travel duration is approximately 7 hours with intermediate stops in Kythira and Antikythera. The ticket cost is €22.
Ferry Routes Italy - Kissamos: If you are traveling from Europe, you can book ferry tickets from Italy to Patras and then drive to Gytheio. From there, you can board the ferry from the port of Gytheio with stops in Kythira and Antikythera, eventually reaching the port of Kissamos.
How to Book Ferry Tickets to Kissamos?
Through the booktickets platform, you can purchase affordable ferry tickets to Kissamos with just a few clicks. Here, you will find all available routes with all applicable discounts for passengers and vehicles.