Seajets: Ferry Tickets - Ship Tickets Reservations
Seajets, the ferry company, was founded in 1989 and officially entered the passenger shipping sector in 2002, operating multiple ship itineraries from Piraeus, Rafina, Crete, and the Cyclades. With years of experience and a modern fleet of high-speed vessels, the company offers over 250 port connections. Quickly and affordably book your ferry tickets on booktickets! Here, you will find all the available information about Seajets' prices and ship itineraries to plan your trip!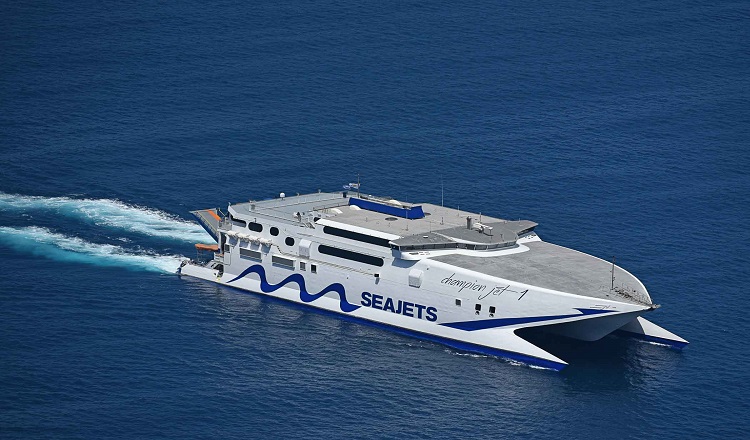 The company
Seajets is one of the top high-speed ferry companies in the Aegean. It is a collaboration of high-speed vessels that was founded in 1989 with the aim of providing maritime services. The company's passenger and vehicle-carrying ships have connected more than 50 destinations in the Aegean Sea. Their fleet consists of 29 vessels, both high-speed and conventional. The high-speed ships can reach speeds of up to 50 knots.
Routes - Destinations
Some of the most popular destinations served by the Seajets ferry company include the following: Anafi, Sikinos, Thirassia, Schinoussa, Kea, Hraklia, Syros, Koufonisia, Sifnos, Serifos, Lavrio, Rafina, Piraeus, Andros, Tinos, Santorini, Rethymno, Paros, Naxos, Milos, Kythnos, Kimolos, Heraklion, Ios, Mykonos, Folegandros, Amorgos.
The most popular ship routes operated by Seajets are as follows:
Ferry routes Piraeus - Mykonos - Piraeus
Ferry routes Piraeus - Milos - Piraeus
Ferry routes Piraeus - Santorini (Thira) - Piraeus
Ferry routes Piraeus - Sifnos - Piraeus
Ferry routes Piraeus - Ios - Piraeus
Ferry routes Heraklion - Santorini (Thira) - Heraklion
Ferry routes Mykonos - Paros - Mykonos
Ferry routes Santorini (Thira) - Mykonos - Santorini (Thira)
Ferry routes Milos - Santorini (Thira) - Milos
Ferry routes Naxos - Mykonos - Naxos
Ferry routes Naxos - Piraeus - Naxos
Seajets' ships depart from Gate 9 at the Port of Piraeus. You can easily search and book ferry tickets for your desired route through our online booking system, available on booktickets, ensuring a quick reservation process.
Ticket discounts - Offers
Take advantage of Seajets discounts and other offers and save up to 30% off:
up to 50% discount for children
up to 100% discount on infants
student discounts up to 20%
How can I book ferry tickets with Seajets?
At booktickets, you can easily search and book ferry tickets for your desired route through our online system, making reservations in no time